Coming soon.... our School Council 2021-22! Coming soon.... our School Council 2021-22! Coming soon.... our School Council 2021-22!
Say hello to our 2020-2021 KS2 School Council!
This year, we're unable to hold school council meetings in person due to the Covid-19 restrictions. Instead, each school councillor has a selection of questions to discuss with their class which they feedback to Miss Smith each month.
Arthur 6G
- prime minister

My name is Arthur and I am in Year 6. Outside of school, I like sport and reading. Inside of school I like Maths, English, History, Geography and PE.

Luke 6A

My name is Luke. I like to draw and I like to play games on my console.

Amy 6P

Hi, I am Amy and I like swimming, singing, dancing and nature. During my time on the student council, I would like to help our school to be a happier and healthier place.

Lucy 5K

I'm very pleased to be elected for 5K's class councillor. I am looking forward to making the school a happier place for all.

Alfie H 5C

I am very happy that I have been elected for this responsibility. My hobbies are pool, football and sports. I am honest, smart and a good listener. My favourite subjects are Maths and Art.

Rosa 5W

In my spare time I like to read books and do art. I am excited to represent my class as class councillor this year, as we face some tricky challenges.

Stanley 4S

I like golf and I think it is a really good sport because it doesn't involve lots of kicking and fighting. I like to learn and I really, really love Literacy. I also like reading and playtime (even if we get hot!) is still really fun!

Milliana 4J

I enjoy being active and I also enjoy reading my favourite books which are Diary of a Wimpy Kid.

Chloe 4M

I enjoy reading, listening to music and playing with my friends. I am very pleased to have been elected as school councillor.

Daisy-May 4GS

I love dogs and I have three of them. I'm quite sporty because I do football, swimming and singing.

Madeline 3W

I am very excited and proud to be elected onto the school council. Outside of school, I love reading books, swimming, singing, dancing and performing on stage.

Sophia 3RW

I am a good listener and I love to ask questions and answer questions. I love art. I would like to be either a baker or teacher when I'm older. I have two twin sisters and a big brother who's 11.

Rayne 3M

I really enjoy being a junior and my favourite lesson is Maths. When I'm not at school, I play Roblox on my computer and go to street dance with my best friends.

Alfie 3JS

I started going to Brightlingsea Primary when I was three, when I started at the Nursery. I always walk to school because I want to save the environment so there is not a lot of pollution.
OUR PYJAMA DAY RAISED £440.80 FOR ST HELENA HOSPICE!
Thank you to the school council for their fundraising efforts we all enjoyed wearing our pyjamas to school for the day!
This month we've been thinking about our school and what we can do to reduce bullying, if there is indeed any of it in our school. To start with, we thought about celebrating what we like about our school, as well as what we might say to a child who wanted to join our school. Here are some of our school councillors sharing the ideas from their classes:
We also thought about what we thought our school was already doing well to prevent bullying from happening. These were some of the things we felt helped:
| | | | |
| --- | --- | --- | --- |
| Displays around the school | Our school rules | Teachers and adults help us | Time outs |
| Special days like Odd Socks Day! | Our friends know how to help | We stand up to bullies | We learn strategies to help us calm down |
| Secret Kindness Missions | Anti-bullying pledges | Anti-bullying assemblies | Consequences to bullying |
| Our PSHE lessons teach us how to show respect to others | We can talk to teachers when we're worried about bullying | We have understanding teachers and midday supervisors | The teachers help us to understand how to treat others |
When thinking about what we could do to reduce bullying further, we suggested:
Everyone should be kind to each other

Be a good friend

Take five minutes out if you need it

More staff at lunchtime

Have stickers for being good friends

Yearly 'Anti-Bullying Day'

A friendship bench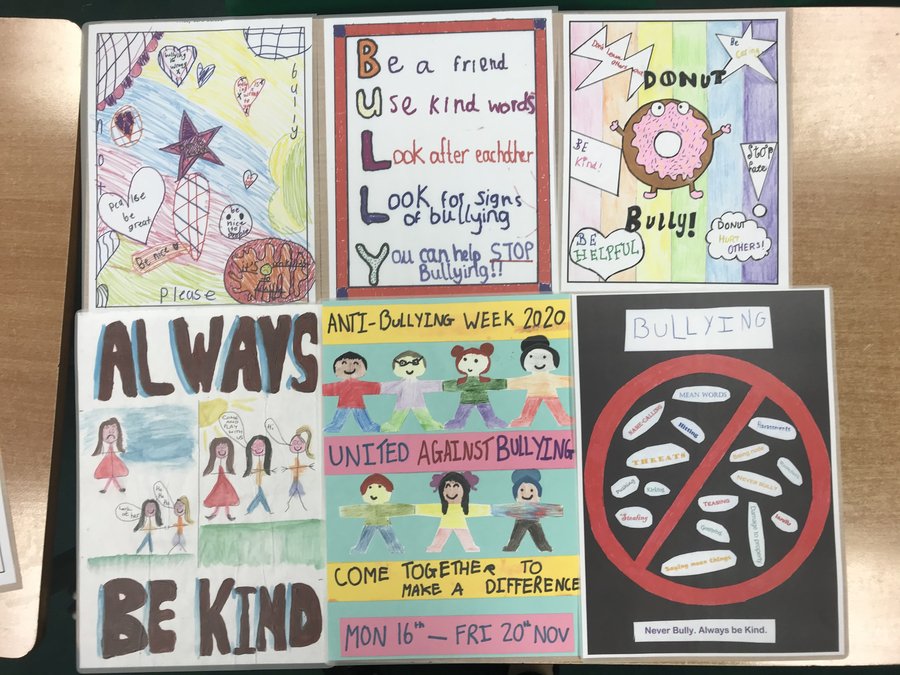 Black History Month
The response to celebrating Black History Month in classes around the school during October has been fantastic, with children learning about the lives and stories of some famous black people in both history and the modern day. We found the level of engagement to be particularly high in these sessions, with lots of children continuing the conversations at home.
See some of our responses to our Black History Month here:
Year 6 - We learnt about famous people who faced hard times for the colour of their skin - Harriet Tubman, Rosa Parks, George Floyd, Mary Seacole. As a class, we felt disappointed that discrimination was allowed. We are sorry because it should be stopped by now because people are still being hurt and killed. This teaches us that we should be kind all year round - we shouldn't need a month to recognise amazing black lives.
Year 5 - We enjoyed finding out about famous black authors and actors such as Benjamin Zephaniah, Malorie Blackman and Chadwick Boseman. Their stories have taught us that we need to be kind to everyone and that, sadly, racism is still around. We need to be the ones to change this! We also enjoyed learning about famous black people in history from the Horrible Histories Black History Month special!
Year 4 - We've enjoyed learning about black athletes as it's interesting. People with black and white coloured skin should be equal as they're all people.
Year 3 - We think it's important to learn about Black History. We enjoyed learning about Obama and watching his speech was interesting. We made a fact file and drew pictures of him. I liked comparing the past to how it is now and understanding how things have changed. It was amazing seeing all of the people who were watching Obama win the vote - they were black and white which is good!
Fundraising
In our School Council discussions this term, we voted in our classes on the fundraising idea we liked the best from the three most popular suggestions last month. Here are the results from each class:
Penny Race
PYJAMA DAY! - 3RW, 3W, 3M, 3JS, 4J, 4S, 4GS, 4M, 5K, 5C, 5W, 6P, 6A, 6G
Raffle
What do adults do to help you to feel safe at school?
Children came up with varied answers to how they are kept safe at school, including:
| | |
| --- | --- |
| | adults help to sort out problems with our friends |
| adults take First Aid kits when we go outside incase we get hurt | adults help us if we're feeling lonely on the playground |
| adults are always there for us - we're never alone | adults make us feel as though we fit in |
| adults make rules to keep us safe | |
| adults teach us about internet safety | adults remind us to social distance |
| adults help us to be happy if we're let down | adults ensure we don't do anything that is dangerous |
| adults sanitise things for us | |
| adults teach us about road safety | some adults wear visors if they move between classes |
| adults ask us to take our shoes off for indoor PE so we don't slip over | adults make sure we wash our hands |
| adults make sure we drink water | adults help when you hurt yourself |
How does our school help you to lead a 'healthy life'?
teach PE lessons

we learn about what a healthy lifestyle is

encourage us to wear a coat

flu vaccines

our Healthy Selfie display in 3W

healthy lunch options

adults encourage us which creates a healthy mindset

adults push us in our learning

Daily Mile

healthy fruit or vegetable snacks at playtime

encourage us to have less sugar

allowed to bring water into class

we have to bring healthy packed lunch - not allowed sweets and chocolate

Sports Day

Zones of Regulation help us to have a healthy mind

adults make sure we eat enough at lunchtime

School trips

having a nice playground and classroom

gives me hope - mental health
November hosts Anti-Bullying Week and so we also discussed bubble ways we could recognise the week and ensure our school has a Zero Tolerance towards Bullying! Look around school and you'll see some wonderful posters made by our school council pupils to celebrate Anti-Bullying Week 2020.
How do children in your class feel about being back at school?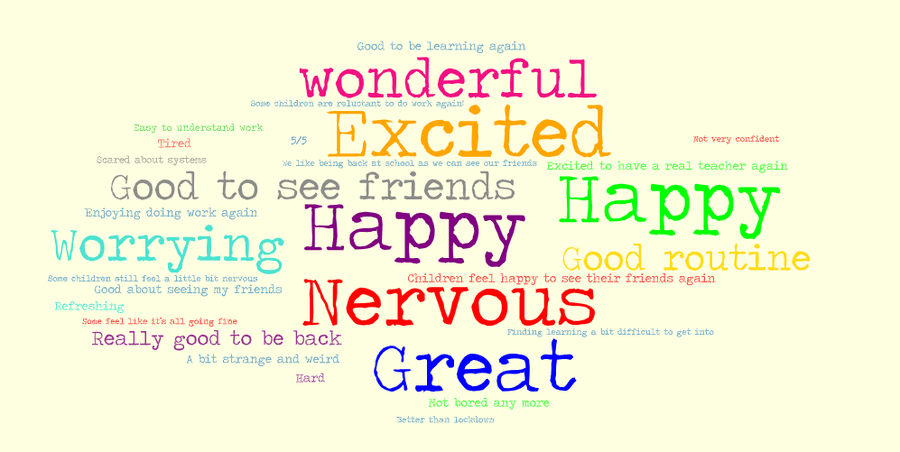 Which new systems are working well?
- Different starting and finishing times - One way system although some children find these confusing - Bubbles to keep us safe
-Having our own stationery works better as we are ready for the lesson - Social distancing - Hand washing
- We like sitting in the same place all day - Having our own bubbles and avoiding the other bubbles - Having playtime zones - Washing our hands
- Eating lunch in the classroom – it's quieter than the hall! - There are fewer things to tidy! - We like playing in different places - Some adults wearing masks
- Spraying the tables - Good to split the field up for break - Using playtime equipment - Keeping tidy at lunchtime in the classroom
What are you looking forward to returning to normal?
- Eating in the hall - Having more space to play - Mixing with other classes - School discos / fundraising events - Sitting next to friends - Sports day
- Normal pick ups - Seeing friends in a socially distanced way - PTA events - Lunch being earlier - Having an hour for lunch again - Swimming lessons
- Not wasting time washing our hands! - Playing with friends from other classes - Having more things to play with - Prom - After school clubs returning
- Singing in class again - WW2 Forts - Not queuing for the toilets - Having proper school council meetings - School trips - Using the trim trail
- Queuing for the toilet - Less hand washing - Playing games like 'it' - Using more equipment - Not wearing masks - Having lunch with other year groups
Food is hot - Hugging our friends - High fives - Play times going back to normal length
We also discussed bubble friendly fundraising ideas for St Helena Hospice, the charity we voted for last year. We will be voting for our first fundraising event in our next class council discussion - come back next month to see what we'll be doing!