Say hello to our 2020-2021 KS2 School Council!
This year, we're unable to hold school council meetings in person due to the Covid-19 restrictions. Instead, each school councillor has a selection of questions to discuss with their class which they feedback to Miss Smith each month.
Arthur 6G
- prime minister

My name is Arthur and I am in Year 6. Outside of school, I like sport and reading. Inside of school I like Maths, English, History, Geography and PE.

Luke 6A

My name is Luke. I like to draw and I like to play games on my console.

Amy 6P

Hi, I am Amy and I like swimming, singing, dancing and nature. During my time on the student council, I would like to help our school to be a happier and healthier place.

Lucy 5K

I'm very pleased to be elected for 5K's class councillor. I am looking forward to making the school a happier place for all.

Alfie H 5C

I am very happy that I have been elected for this responsibility. My hobbies are pool, football and sports. I am honest, smart and a good listener. My favourite subjects are Maths and Art.

Rosa 5W

In my spare time I like to read books and do art. I am excited to represent my class as class councillor this year, as we face some tricky challenges.

Stanley 4S

I like golf and I think it is a really good sport because it doesn't involve lots of kicking and fighting. I like to learn and I really, really love Literacy. I also like reading and playtime (even if we get hot!) is still really fun!

Milliana 4J

I enjoy being active and I also enjoy reading my favourite books which are Diary of a Wimpy Kid.

Chloe 4M

I enjoy reading, listening to music and playing with my friends. I am very pleased to have been elected as school councillor.

Daisy-May 4GS

I love dogs and I have three of them. I'm quite sporty because I do football, swimming and singing.

Madeline 3W

I am very excited and proud to be elected onto the school council. Outside of school, I love reading books, swimming, singing, dancing and performing on stage.

Sophia 3RW

I am a good listener and I love to ask questions and answer questions. I love art. I would like to be either a baker or teacher when I'm older. I have two twin sisters and a big brother who's 11.

Rayne 3M

I really enjoy being a junior and my favourite lesson is Maths. When I'm not at school, I play Roblox on my computer and go to street dance with my best friends.

Alfie 3JS

I started going to Brightlingsea Primary when I was three, when I started at the Nursery. I always walk to school because I want to save the environment so there is not a lot of pollution.
October October October October October October October October October
How do children in your class feel about being back at school?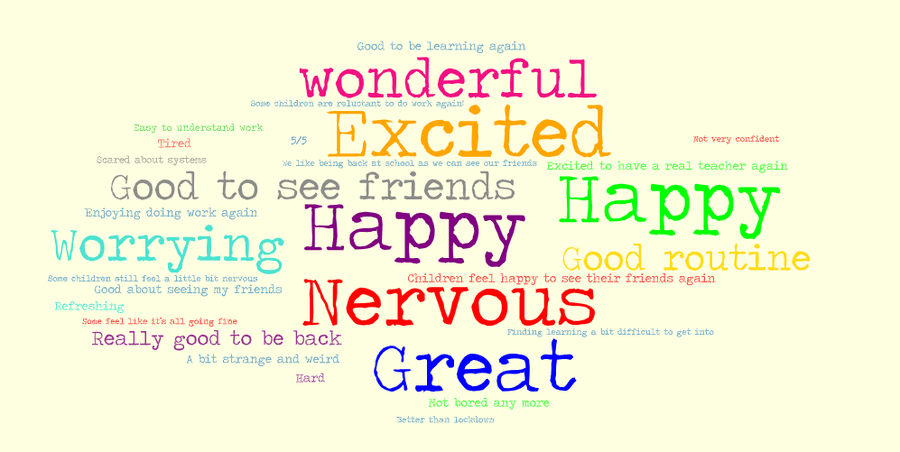 Which new systems are working well?
- Different starting and finishing times - One way system although some children find these confusing - Bubbles to keep us safe
-Having our own stationery works better as we are ready for the lesson - Social distancing - Hand washing
- We like sitting in the same place all day - Having our own bubbles and avoiding the other bubbles - Having playtime zones - Washing our hands
- Eating lunch in the classroom – it's quieter than the hall! - There are fewer things to tidy! - We like playing in different places - Some adults wearing masks
- Spraying the tables - Good to split the field up for break - Using playtime equipment - Keeping tidy at lunchtime in the classroom
What are you looking forward to returning to normal?
- Eating in the hall - Having more space to play - Mixing with other classes - School discos / fundraising events - Sitting next to friends - Sports day
- Normal pick ups - Seeing friends in a socially distanced way - PTA events - Lunch being earlier - Having an hour for lunch again - Swimming lessons
- Not wasting time washing our hands! - Playing with friends from other classes - Having more things to play with - Prom - After school clubs returning
- Singing in class again - WW2 Forts - Not queuing for the toilets - Having proper school council meetings - School trips - Using the trim trail
- Queuing for the toilet - Less hand washing - Playing games like 'it' - Using more equipment - Not wearing masks - Having lunch with other year groups
Food is hot - Hugging our friends - High fives - Play times going back to normal length
We also discussed bubble friendly fundraising ideas for St Helena Hospice, the charity we voted for last year. We will be voting for our first fundraising event in our next class council discussion - come back next month to see what we'll be doing!