Please support us in our efforts to raise money for a minibus, by placing your tokens in the Co op both here in Brightlingsea and in West Mersea, if you or anyone you know, shops there. Many thanks.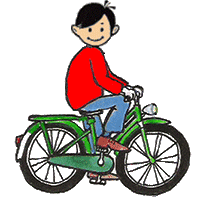 Family Wellbeing

Parents and carers; did you know that it is Bike to School week 3rd-7th June? Bike to School Week is a time for inspiration – helping pupils and parents/carers across the UK kick-start active travel habits and switch to cycling, scooting or walking for the school journey. Click here for further information on how you can encourage your child or children to bike to school.

Why don't you involve the whole family, set daily activity targets, track your journey and compare results with each other? Click here to find out how cycling can contribute to the recommended amount of daily exercise.

It's Healthy Eating Week 10th -17th June and the Change4Life website has some brilliant free and fun recipes on the website.

As a parent/carer it's important we are aware of accident prevention in the home. The Child Accident Prevention Trust has downloadable packs for parents and carers, aimed at helping parents/carers identify the key risks of accident and help prevent them. There are some fun activity sheets at the back of the pack that you could do with your children. The theme for child safety week this year is Family life today: where's the risk? This aims to highlight the new dangers facing families today from our modern lifestyles and offers simple solutions to keep children safe .
Welcome to Brightlingsea Primary
We are very pleased to welcome you and your child to our new school community. Having spent the last twelve months working hard to make it possible, we are celebrating the first year of being a newly amalgamated Primary School. This has given us a fantastic opportunity to reflect upon what our children need to learn, in the widest sense, on their journey to becoming citizens of the future. We are in the process of tailoring our wider curriculum so that matches the current needs of our children.
Our school welcomes all children and places high priority on teaching the whole child within a socially inclusive environment. We know that children learn best if they are part of a stimulating and happy environment where academic skills are developed alongside social, physical and emotional skills.
We place a strong emphasis on developing positive partnerships with parents/carers and their children, in order to extend children's learning and experiences in school.
The internal and external spaces around our school are continually evolving, allowing us to be creative in developing child friendly learning and play areas. The amalgamation has enabled us to rethink the use of our buildings and this has released space which we have remodelled to provide Food Technology, Library and Thrive areas. Quiet, ball game and landscaped play areas allow children to find a suitable area to enhance their activity and imagination. Accessible external covered areas throughout the school enable children to enjoy a continuous learning environment both inside and outside the classroom.
Latest News
Charity donation

Another successful residential trip to West Runton

Christmas assembly report
Further Articles »
Latest Calendar Events
Y6 Holiday Show

23

Sep

2019

2:00 pm - 3:00 pm @ Year six classrooms
Year Six Residential

25

Sep

2019

9:00 am - 27 sep, 4:00 pm @ Kingswood, West Runton, Norfolk
Learning Conversations

03

Oct

2019

3:30 pm - 5:45 pm
Flu immunisations

04

Oct

2019

9:00 am - 2:45 pm @ Large Hall
Learning Conversations

08

Oct

2019

4:30 pm - 7:45 pm