Choir Competition
Choir Competition
5 December 2019 (by Laura Khine (admin))
Our exciting win at the Rotary Choir Competition!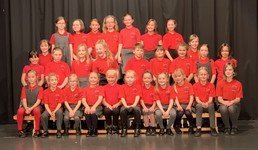 On the 27th of November, Brightlingsea choir performed at the final of the Rotary Junior Choir Competition.
There were six choirs against us and we went fifth. On the third choir we had to go out and practise our songs and warm up our voices. When it was time to go on stage we were nervous but also really excited. We had great fun.
We really enjoyed the two songs we sang which were called Camelot by Lin Marsh and Building. Camelot had a harmony in the beginning verse and in Building we had lots of actions.
We had refreshments and biscuits while the judges made their decisions and then we all sang Camelot, all the schools together, and then the host held up an envelope to get our attention. Now it was time to find out the winner. "Drum roll, please," said the host. Their hand crept into the envelope and they read out… "Brightlingsea Primary School!" WE WON!!!
We had a celebration but we also said well done to the other schools. They then handed us the trophy and Mr Bloor shared the chocolates that we gave him. It was getting late so our parents came to collect us. Then we couldn't get to sleep because we were so excited! We had an amazing day!
Written by Jess, Lucy and Olivia