Kingswood 2019
Kingswood 2019
30 April 2019 (by Laura Khine (admin))
Another successful residential trip to West Runton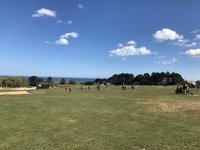 Our year six children have just returned from another very successful trip to Kingswood, in West Runton. The children were all a credit to themselves, their families and to us. They were all up for a challenge and many exceeded their own expectations. They learned so much and have developed and improved their resilience.
This is what a few of the children said about the trip:
I think Kingswood was the greatest school trip/experience that I have ever been on because:
1. All the workers at Kingswood were funny and kind and answered all of our enquiries about activities, dorms, food and much more.
2. All the activities were fun and some were challenging to me.
3. The dorms were also very enjoyable because I was with my friends.
The leap of faith was one of the most challenging activities because I'm not the biggest fan of heights (especially if when you are up there, you are wobbling like crazy!) When I started climbing the pole I faced my fears and I even jumped off the edge!
I did enjoy the dorms but I was in room 10 - the biggest dorm. So there were some arguments between all 12 of us girls but we all made up after them.
I also thought the coaches were very nice (I was on the nice one though!) I especially liked the journey back because we watched films.
Overall, I thought this was the most spectacular , remarkable time I have ever had with school!
Amelie
Kingswood was absolutely amazing and we all had the time of our lives there. There were so many unforgettable, enjoyable activities.
The leap of faith was one of my favourite activities because I wasn't going to do it at first but in the end I managed to face my fears and go for it! And, I even caught the bar on the trapeze! I also loved doing the zip-line; it felt like I was flying! Another activity I liked was side by side which is when you are in a sport side by side (it is a bit like a quad bike with a roof and you have to drive it in a figure of eight round a track). It was quite scary but really fun at the same time.
One of the other things I loved about Kingswood was our dorms because I didn't know some of the people that I got put in a dorm with, but by the end of the trip we were all best friends!
-Estelle
Kingswood has to be the best school trip we've ever had. The activities were brilliant, the food was outstanding (in my opinion), and our dormitories were very spacious and that space was filled with our best school friends.
We were all separated into our activity groups for the fun times we had ahead of us. Our activity group leader was the one and only...Mrs Cork! Our first activity of Kingswood was Archery, with our friends like Callum, Reuben, Dexter and Luke. We all had a blast by hitting the target (most of the time) and playing the instructor's amusing mini-games that were related to Archery. We then travelled over to next activity and, time and time again, we had a fantastic time.
We then had dinner inside the cafeteria, which was either lasagne or chicken ratatouille with a side of garlic bread and any fruits. We could easily stroll back to our dormitories after and chill on our bunk-beds.
Our morning schedules were reasonable. We had to wake up at around seven o'clock and we all had room inspection at nine until all our rooms had been checked.
We had such a brilliant time at Kingswood that we all wish we could go again.
- Lewis